10: 11 am: Update: Modified Lockdown Lifted The Enumclaw Police Department has responded and made contact with the individual named in the threat. They determined the report was unsubstantiated and have notified ESD that there is no threat to our students or staff. EHS is no longer in a modified lockdown and will return to the regularly scheduled school day. Thank you to the Enumclaw Police Department for their immediate response and partnership. Friday, September 8, 2023; 9:13am: Enumclaw High School is in Modified Lockdown Enumclaw High School is currently in a modified lockdown due to rumors and reports of a potential threat from an individual not on our campus. During a modified lockdown, no one will be allowed in or out, so meetings at the school may need to be rescheduled. Modified Lockdowns are precautionary. Local law enforcement is responding. We will update families as soon as information is available. Maintaining the safety of students and staff is the priority at this time.

Online Ticket purchasing available for Hornet Football, Soccer and Volleyball We are excited to continue to bring you a convenient option for purchasing your varsity game tickets online on any smart device. This will give you the ability to skip the ticket booth and the long lines and go directly to the entry gate. You can also save time with a one-time purchase of season passes if you plan to attend all of the home games this season! Interested in purchasing a season pass or ordering prior to the game? The easiest way to purchase and enter the games is by Downloading the Ticket Spicket APP and type in Enumclaw. You can purchase a season pass or just the games you would like to attend. It's that easy!  Redeeming your Ticket at the Gate After you have purchased a ticket, you need to wait until you are at the gate to redeem your ticket in front of the gate attendant. Simply click on the game, Tap and Hold the Green Check in Button, and enjoy the game! Will guests still be able to buy tickets with cash at the gate? Yes, but there will only be one cash box at the ticket booth and if you want to avoid waiting in line, we encourage everyone to purchase tickets electronically. 
Due to poor air quality all EHS outdoor activities and athletics will be canceled for the rest of today 8/21. Parent/Guardians please check your email for indoor practice schedules or call the Athletic Office at 360-802-7718

ESD is excited to welcome our new and returning students into the 2023-2024 school year! There are many upcoming important dates for families of all ages - you can reach out to your students school for more details. 8/17: Enumclaw High School Hornet Days -- 8/22: Thunder Mountain Middle School Day of Thunder -- 8/23: Enumclaw Middle School Timberwolf Day -- 8/28: Black Diamond Elementary School Ice Cream Social -- Byron Kibler Elementary School - Enumclaw School District Meet the Teacher -- Southwood Elementary School Ice Cream Social -- Sunrise Elementary Meet the Teacher -- Westwood Elementary School Cougar Day -- 8/29: EHS 9th Grade Orientation -- 8/30: First Day of School for grades 1-12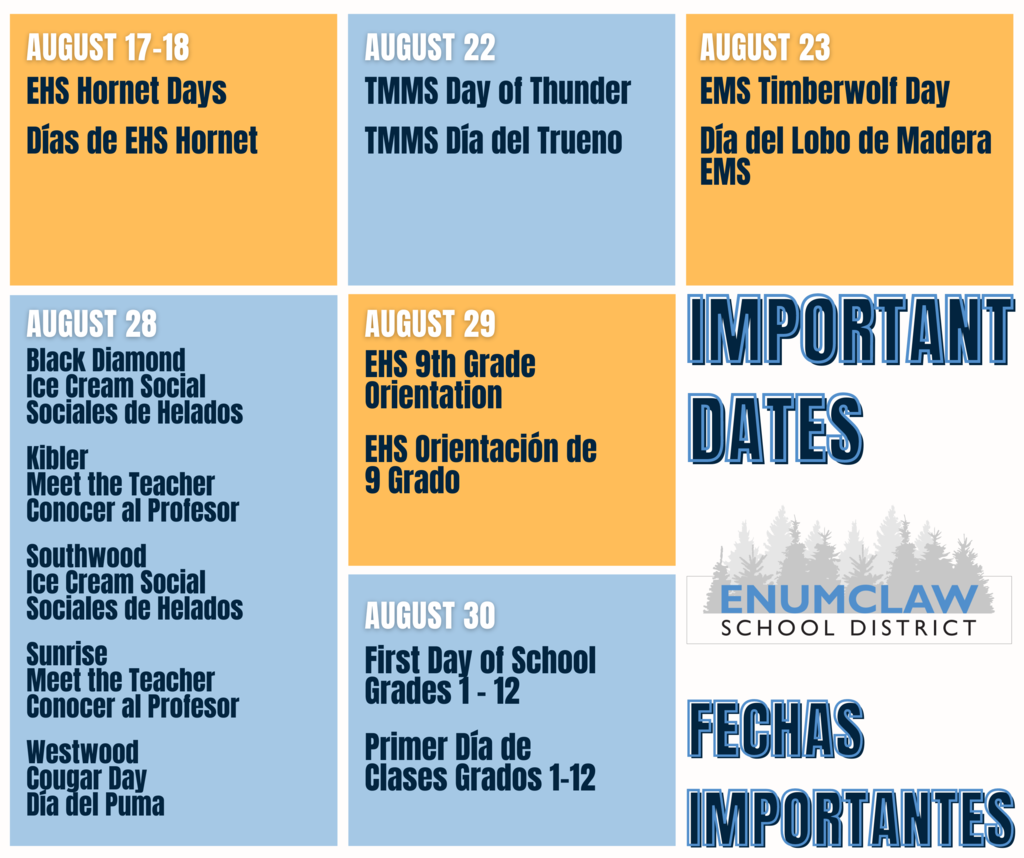 The start of the Kindergarten school year is slightly different than grade 1-12. Please mark your calendars with the Kindergarten specific start dates: Aug 30: First day for 1st-12th grades (no Kindergarten) Aug 30 - Sep 1: Family Connection Conferences (no school for Kindergarten, but students attend conferences) Sept 4: Labor Day, No School for any students Sept 5: Half of each Kindergarten class will attend Sept 6: The other half of each Kindergarten class will attend Sept 7: Full classes, everyone attend school together

ESD will TEST our EMERGENCY COMMUNICATIONS SYSTEM on August 11, 2023 - The Enumclaw School District remains committed to keeping our staff and families informed. Before we begin the 23-24 school year, the Enumclaw School District will be conducting a test of our emergency and inclement weather communications to ensure important information is received by our learning community in the event of an emergency or change to the school day. On Friday, August 11, 2023, at 10:00 am a TEST message will be sent to all families and staff by text, email and voicecall. If you do not receive the test by all three methods please contact our Communications Department 360-802-7109 or
jessica_mccartney@enumclaw.wednet.edu
to ensure you receive important notifications and information this school year!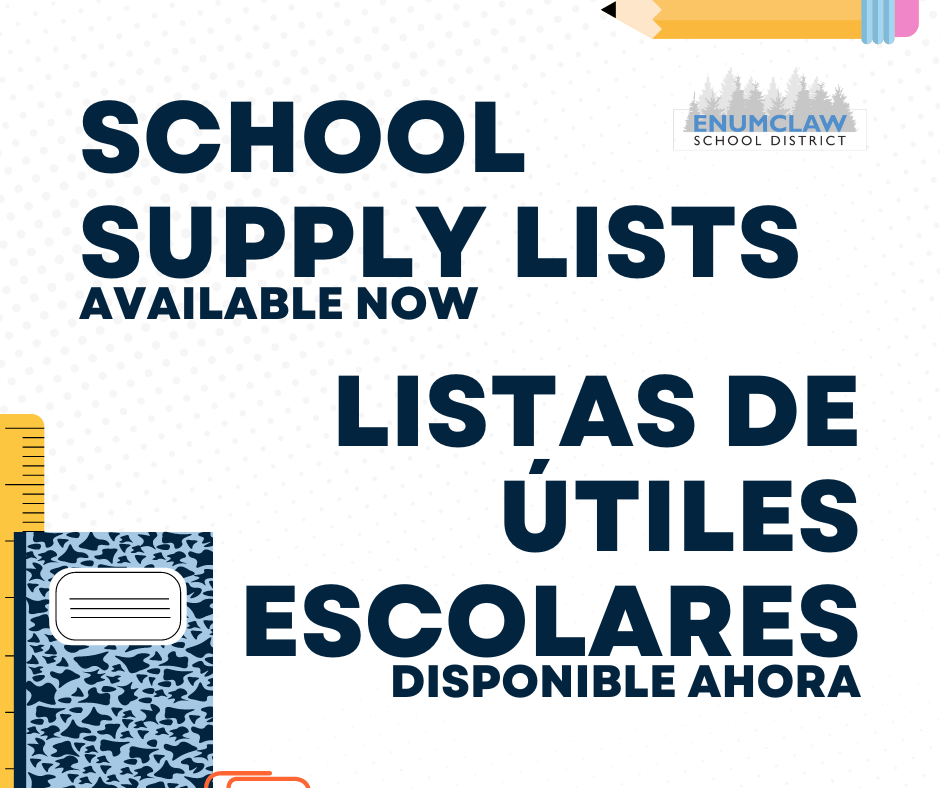 Ballots with voter pamphlets drop today, so keep a lookout for the August 2023 Primary Election ballot in your mailbox. Ballots must be in drop boxes or postmarked by Tuesday, August 1st. You can register to vote, update your voter information, and learn more about what's on the ballot at
https://kingcounty.gov/.../current.../august-primary.aspx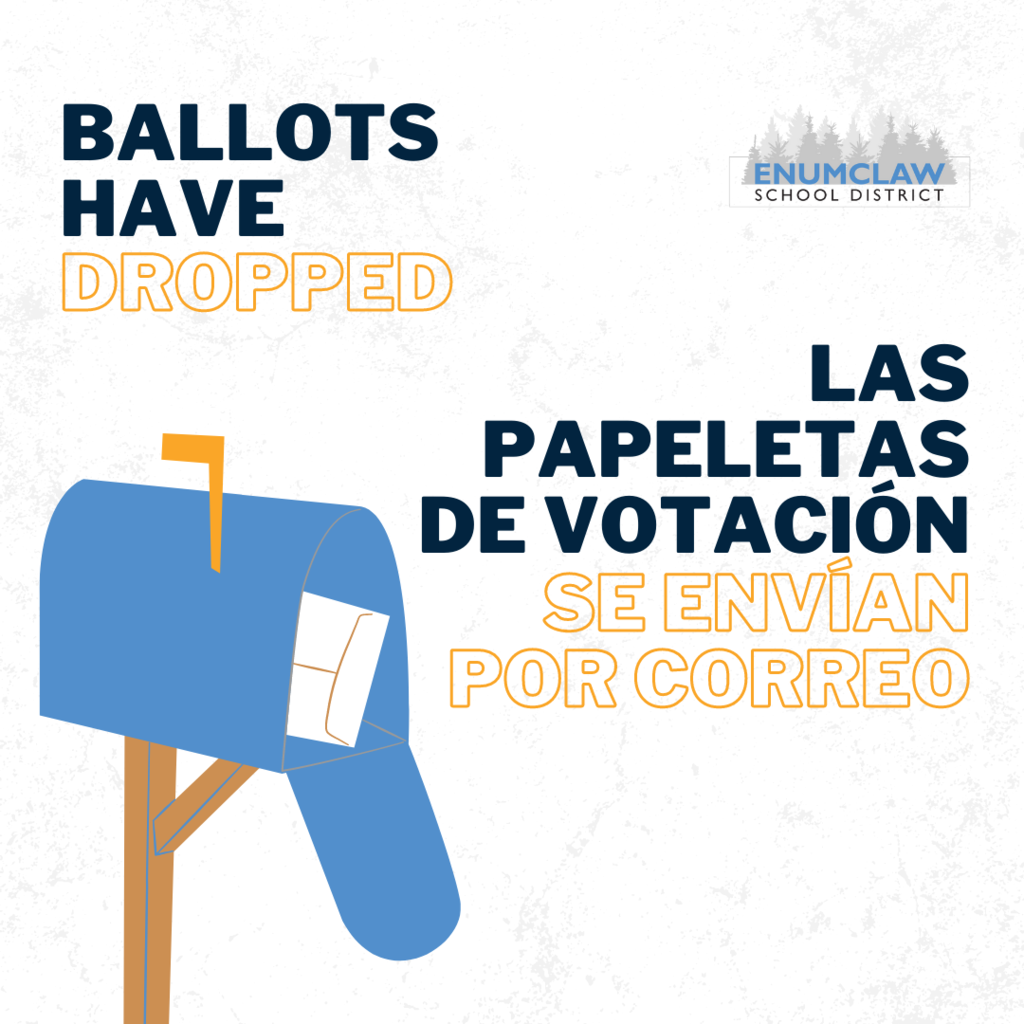 EHS Drama Presents "Steel Magnolias" It is a "black box set-up" where the audience seating is up on the stage. It creates a unique and intimate atmosphere that gets you close to the "action" however, that means we have VERY limited seating. More information is available at
https://ehs.enumclaw.wednet.edu/o/ehs/article/1137338
.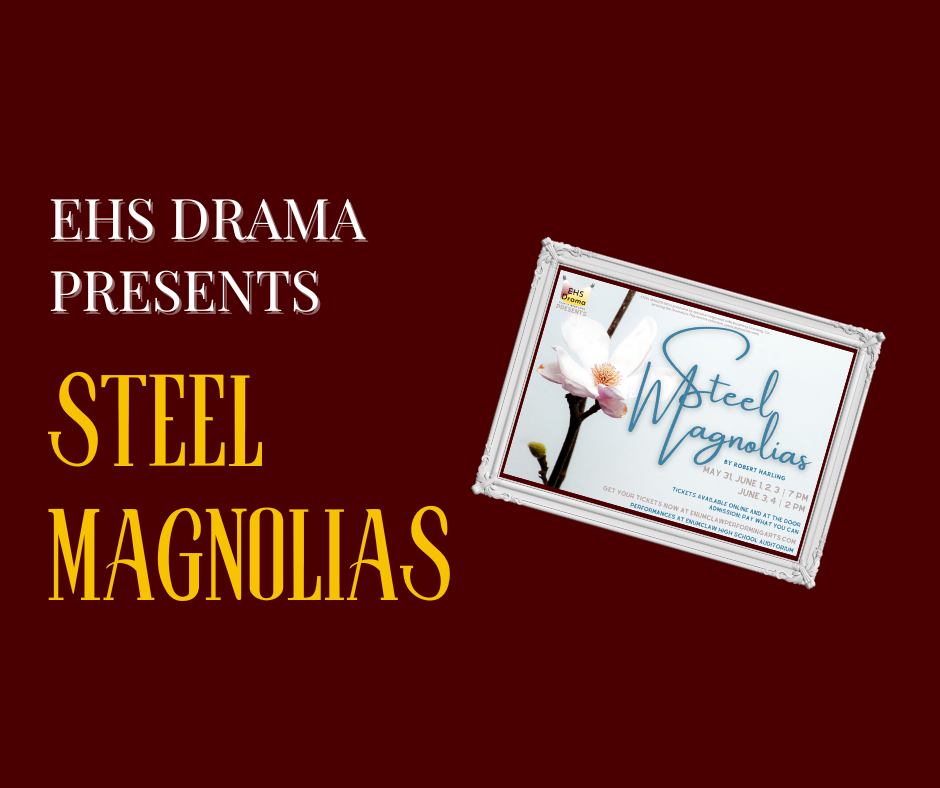 REMINDER All ESD schools and the District Office will be closed on Monday, May 29 in honor of Memorial Day. Have a safe a meaningful Memorial Day!

Friday, May 26 is a regularly scheduled Friday to make up for a snow day in January. Building release times are as follows: - Elementary: 2:15pm - TMMS: 1:25pm - EMS & EHS: 1:15pm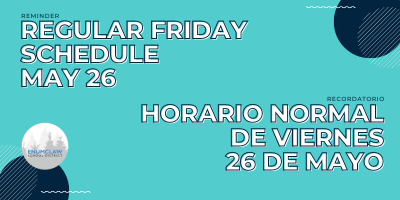 Please take note of a few upcoming important dates: - May 26: Snow Day Make Up for school being closed due to weather on January 5 - May 29: No school in honor of Memorial Day - June 14: EHS Graduation - June 19: No school in honor of Juneteenth - June 21: Last day of school Please contact your school building with questions specific to your students or their schedules.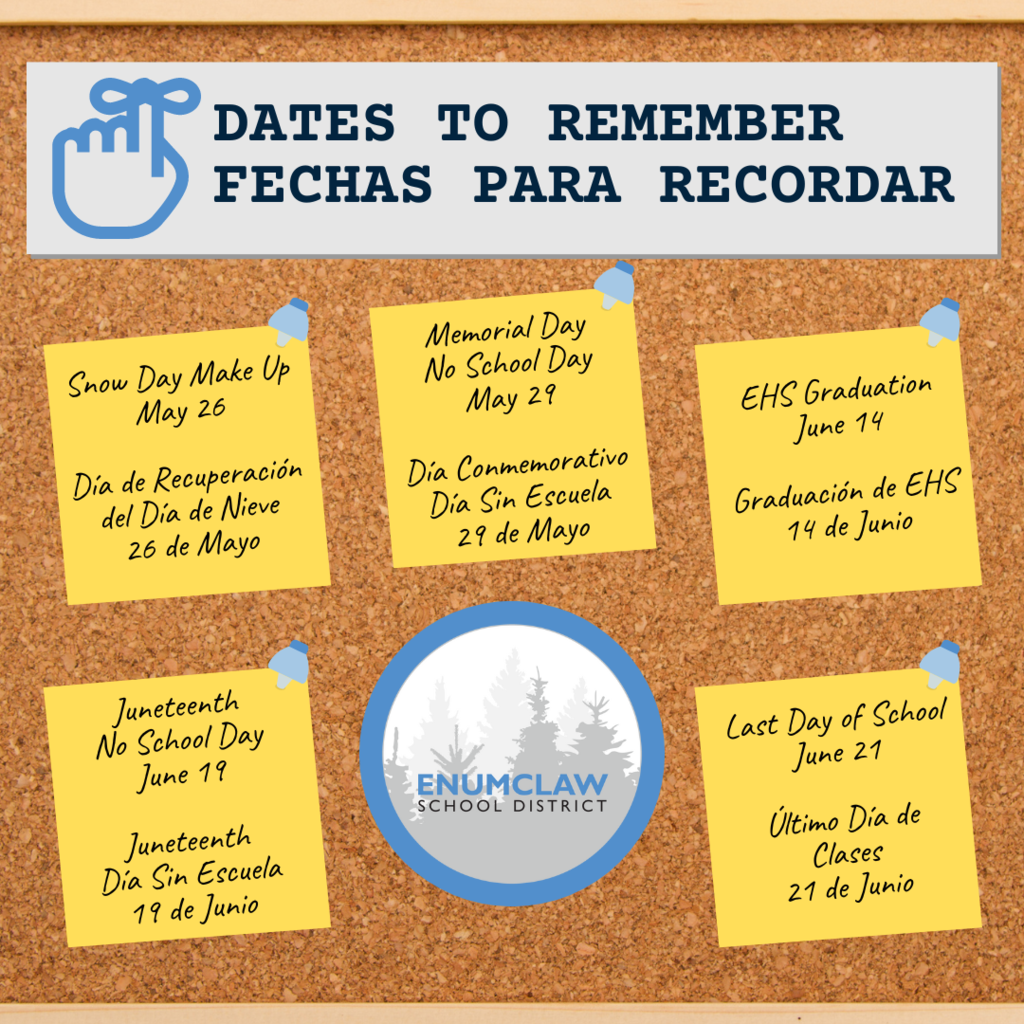 Spring is officially here! March 20, 2023 marks the Vernal or Spring Equinox; the first day of Spring in the Northern Hemisphere. This means time when the sun's direct rays are is most equal to the time without direct rays, post-Winter Solstice. Simply stated, after today, daylight will continue to last longer than not, until the Summer Solstice in June. Now is the time to enjoy the longer days and new life that comes with Spring!

REMINDER: Friday, March 24, 2023 is a regularly scheduled Friday release school day to make up for a missed day of school for snow on December 1, 2022.

Education Support Professional Spotlight Amber Benson, ILC Paraeducator Although only in her second school year in the Byron Kibler Elementary Independent Learning Center, Covington native Amber Benson was made for it. In the years leading up to coming to ESD Amber worked with children: initially toddlers, then Pre-K, so an elementary ILC was a natural transition. While working with her students, Amber's love for what she does and who she works with shines through. "There is always something new [in the ILC] - the challenges and progress of the students. They each have so much more to offer than most people get to see!" Being in the classroom has inspired her to return to complete her Masters Degree in Special Education, which coursework will begin in May. "I am hoping to learn as much as I can, while I can before starting my Masters. My goal is to someday have my own ILC or Resource classroom," Amber explains. Already having a Bachelors Degree under her belt, Amber seamlessly steps into the role of substitute teacher in her current, and other classrooms as needed. A Masters Degree isn't the only thing on the horizon for her, though. Amber will be getting married in July where she, her fiance and his two children spend as much time as possible - camping outdoors. They have planned an intimate forest campsite wedding to celebrate with their closest loved ones. #ESPWeek2023 #learnleadimpactESD #aprenderliderarimpactoESD

Education Support Professional Spotlight Annette Vranizan, Student Information Systems Specialist Annette is originally from Enumclaw, and although she spent time growing up on both sides of the bridge - a true Hornet at heart - is an EHS graduate. After taking time to live and work elsewhere, she moved back to Enumclaw to raise her son and daughter in the town she loves, with family and friends close by, and getting back to being in the beautiful outdoors. When Annette's children were young, she enjoyed volunteering in their Kindergarten classes, which led to her 15-year career in ESD. Now, as the Student Information Systems Specialist (Skyward), Annette has done a little bit of everything: Paraeducator, Office Manager, Substitute Coordinator, Executive Secretary for Technology and Assessment. Transitioning to her current role in October, she is continuing to grow and learn new things everyday. What she does is a mystery to many, but changes and updates appear automatically in Skyward accounts, she is an important piece of that "automatic" process. Some areas she works in daily are new employee accounts, school calendars, course and grading configurations for each school year, food services accounts, student IDs, Family Access and new student enrollment configuration to name a few. "Part of my responsibilities also include purchase order requests for Technology, where it is fun to watch innovation in the world of education. I really enjoy working with the people on our team in our district," Annette says. #ESPWeek2023 #learnleadimpactESD #aprenderliderarimpactoESD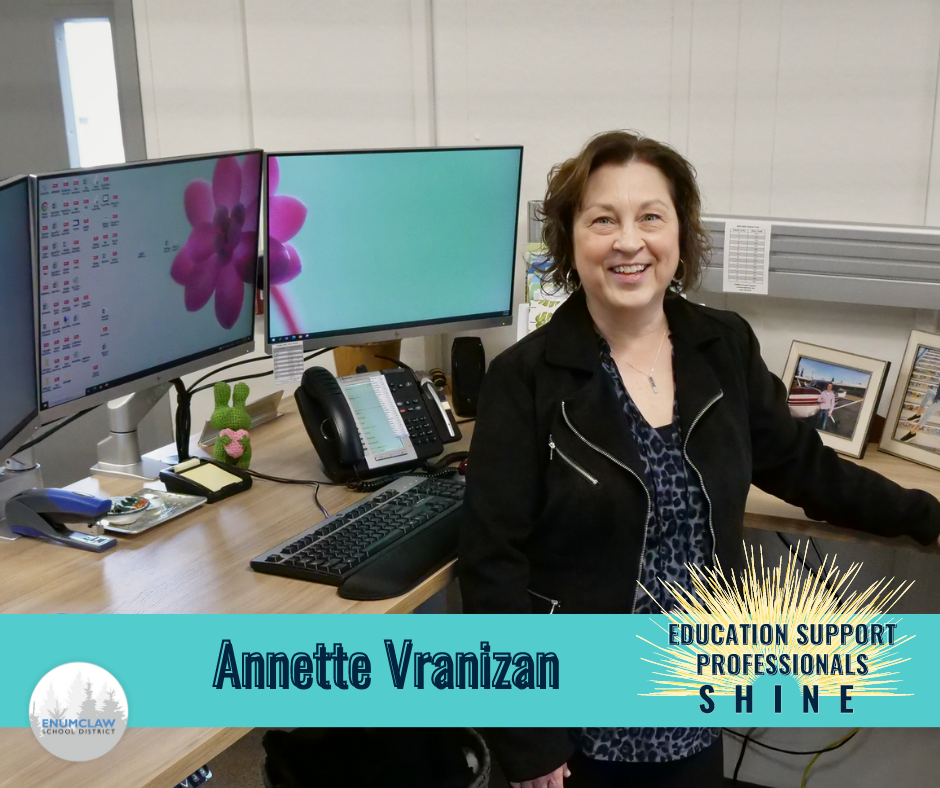 Education Support Professional Spotlight Kathy Wallin, Bus Driver Mother of three and grandmother of two (with one more on the way, Kathy and her husband own and run Wallin Dairy in Enumclaw. Driving both morning and afternoon routes, she also works with high school students during the midday. Just before the age of 21, Kathy was hired as a member of the ESD transportation department to help with concerns on specific buses until she was old enough to have a route of her own. Over two decades later, she is still here and now the most senior driver on staff! Kathy has far and wide across the nearly 450 square mile school district! "This is an awesome place to work... you get to meet people from all across the district. What I love most is getting to know the kids and their families day in and day out. You treat the kids on your bus like your own!" Nowadays, Kathy is primarily serving students from Selleck, Ravensdale and Black Diamond, driving 171 miles daily. #ESPWeek2023 #learnleadimpactESD #aprenderliderarimpactoESD

Education Support Professional Spotlight: Leslie Quezada-Garcia, District Cultural Specialist Born in Mexico, Leslie and her family moved to Enumclaw when she was elementary school age. As a lifelong Hornet, she came back to ESD after receiving her degree from Green River College. "The purpose of the cultural program is inclusivity. Students come together with their uniqueness to find unity. It can be challenging at times, but we get to adapt to their individual needs" Leslie explains. In addition to being the district Cultural Specialist, Leslie is an English/Spanish interpreter for ESD events, conferences, meetings, and providing translations for the approximately 10% of ESD enrolled families who are Spanish speaking at home. "I see the impact the program has made and love connecting with families." "Leslie is the foundation of student support in our program" says Sui-Lan Ho'okano, District Cultural Support Program Manager. #ESPWeek2023 #learnleadimpactESD #aprenderliderarimpactoESD